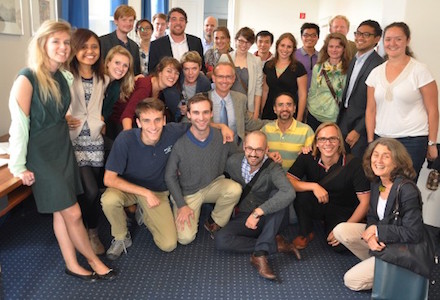 Scientists Summer scholarship Program 2016- Austria
Deadline: January 11, 2016.
Applications are now open for the Young Scientists Summer Program (YSSP)! YYSP offers research opportunities to talented young researchers whose interests correspond with  IIASA(International Institute of Applied Systems Analysis)'s ongoing research on issues of global environmental, economic and social change. The following areas of program will be considered:
Advanced Systems Analysis;
Energy;
Evolution and Ecology;
Ecosystem Services and Management;
Mitigation of Air Pollution and Greenhouse Gases;
World Population;
Risk Policy and Vulnerability;
Transitions to New Technologies;
Water.
Eligibility
you are a PhD student (ideally about 2 years prior to receiving a PhD)
your field is compatible with ongoing research at IIASA
your would like to explore the policy implications of your work
applicants from all countries are welcome, although IIASA gives priority to citizens or residents of NMO countries.
Award Information
Most of IIASA's National Member Organizations (NMOs) provide special grants to enable young scientists (either their own nationals or foreign students studying in their country) to  participate in the YSSP. The stipend varies slightly among NMOs, but usually it is EUR 1,310 per month plus airfare. If you are not citizen of or resident in an NMO country you must find alternative funds to finance participation. IIASA does not charge a tuition fee. In general, participants are expected to cover all expenses associated with their stay (3 months rent; meals; local transportation; expenses for any accompanying dependents; and health insurance) from their NMO grant or their other funding source.
How to Apply
Complete the online here.
Your Application  should include your research interests, CV, motivation for applying to the program, and names of two references.
Should you wish to preview all the online application questions, you may view the pdf version.
For more information, Young Scientists Summer Program.