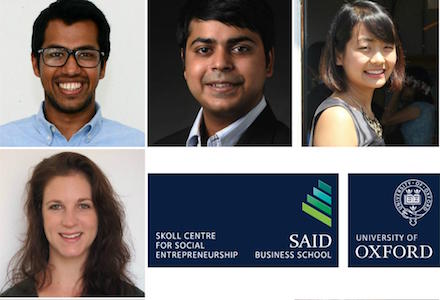 Deadline: October 30, 2015| January 8, 2016| March 18, 2016
Have you started a venture or initiative that is aimed at solving one of the world's biggest social or environmental challenges? If so, you may be the next Skoll Scholar! The Skoll Scholarship is a competitive scholarship for incoming MBA students who pursue entrepreneurial solutions for urgent social and environmental challenges. The Scholarship provides funding and exclusive opportunities to meet with world-renowned entrepreneurs, thought-leaders and investors.
The Scholarship is given in recognition that the MBA may represent a significant financial burden, particularly for those who have chosen to work in social ventures rather than the commercial or public sectors.
Eligibility
You must have started and grown a social venture that has been running for at least 12 months or have been responsible for leading a major expansion of an existing social venture or programme within that venture.
You must demonstrate some evidence of your need for the Scholarship (e.g. circumstances that make self-funding the MBa a significant financial burden).
You must demonstrate how a business education can contribute to the wider development of the community within which you work. You will need to illustrate why a business degree at this stage of your career can help amplify your impact.
You must demonstrate evidence of personal qualities strongly resonating with social entrepreneurial leadership such as: persistence in pursuit of a social/environmental benefit goal, a bias toward action rather than reflection, a willingness to take personal risks, a habit of developing a network and using it to pursue mutual goals, and a tendency to explore the environment for opportunities and resources.
Scholarship Award
The Skoll Scholarship covers full costs of Saïd Business School tuition and college fees. The Scholarship also covers partial living expenses based on need, up to an additional £8,000. The Scholarship Committee assesses need based on previous earnings, geographical location, and future earning potential.
Students will be responsible for meeting the financial guarantee by other means necessary. In exceptional cases, the Scholarship Committee may consider requests for full scholarship coverage including the financial guarantee.
Benefits
The benefits of becoming a Skoll scholar includes:
receive exclusive opportunities to meet with world-renowned entrepreneurs, thought- leaders and investors;
Take your social venture/initiative to the next level;
gain professional, leadership, and business skills;
Become a part of the Skoll Scholar community, a group of leaders who are positively impacting the world through innovation and system change.
How to Apply
Apply to the MBA programme at Saïd Business School, University of oxford. (Don't forget to indicate your interest in the Scholarship on your MBa application!- Check the Skoll box under Scholarship on your MBA application form)
You must apply during specific MBA application stages to be considered for the Scholarship. consult the Skoll Scholarship website for more information.

Complete the essay question the Skoll centre will send you after you are accepted on to the MBa.
Interview (Note: not all candidates will be offered an interview)
Note: candidates who have not been accepted by the School for the MBA will not be considered for the Skoll Scholarship
*** The Skoll Centre wants to provide educational opportunities to a diverse range of social entrepreneurs, including those from developing or marginalized communities, or those who are putting their time into a social venture at significant personal cost.  If you are unsalaried or have an income which may preclude you from applying to study on the MBA programme because you cannot afford the admissions fee, we reserve the right to waive your fee. This is done on a discretionary basis and is non-negotiable. If you would like to apply for a waiver, you should be confident you meet the requirements for the MBA and the Skoll Scholarship, then send us your CV and a covering letter explaining your financial circumstances***