Asia Pacific Leadership Program Fellowship 2016-17 – Honolulu, Hawai'i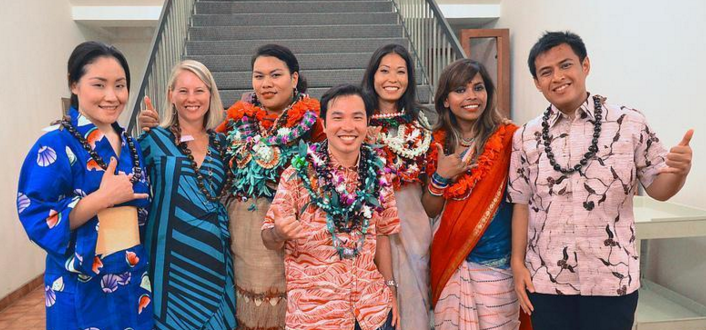 Deadline: March 1, 2016
The East-West Center invites invite applications for the 2016 – 2017 Asia Pacific Leadership Program Fellowship (APLP). The APLP is the center of excellence for leadership education in the Asia Pacific region that links advanced and interdisciplinary analysis of emergent regional issues with experiential leadership learning.  The APLP seeks outstanding individuals from all walks of life to participate in an innovative leadership development program at the East-West Center in Honolulu, Hawai'i.
The APLP is a nine-month program (mid-August to mid-May) with an initial five-month residency requirement. All fellows live on the East-West Center's campus in Honolulu, Hawaii from August through December 2016 for the residential portion of the program. From January – April 2017, the program is run virtually [online] and fellows have the option to return to their home countries or apply for extended fieldwork in Southeast Asia, internships, self-designed projects and employment experiences.
Benefits
Upon acceptance, all participants receive a fellowship valued at approximately $13,000 USD to cover a majority of the program costs.
The Fellowship costs include program fees, provision of learning materials, electronic and print materials, transportation to most off-site locations, other travel and excursions, specialized workshops, and health insurance.
Eligibility
Open to individuals from all walks of life (government, business, NGOs, health sciences, media, monastic orders, and education) with a deep interest in leadership training and promoting peace and prosperity in the Asia Pacific region – regardless of citizenship, age or ethnicity. All citizenships are welcome to apply.
There are no age restrictions in the APLP. The average age of an APLP Fellow is 32, with an average of 5 – 8 years of professional experience.
Applicants must have at least a 3-year bachelor's degree or its equivalent from an accredited U.S. college or university or from a recognized institution of higher learning abroad. If you do not possess a degree and are still interested in the program, please contact their staff directly atAPLP@eastwestcenter.org
Desirable Qualifications
Professional work experience and achievement
Leadership track record in professional, public, and/or personal realms
International experience and aptitude, including overseas residence,  language skills, intercultural and diversity exposure
Volunteer and community service experience
Asia Pacific engagement: evidence of interest in and knowledge of the region, as well as commitment to its future prosperity. This might include employment in the region, classes taken at University, languages spoken, memberships and fellowships, specific projects, field studies, and areas of research interest
Experience of cohort learning, working collaboratively in small teams or in large groups.
For more information and to apply, visit Asia Pacific Leadership Program Fellowship.