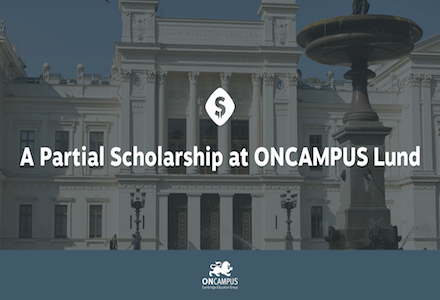 Apply for Scholarship at ONCAMPUS Lund to Study in Sweden!
Deadline: May 31, 2016
The Cambridge Education Group and Lund University are offering international students an opportunity to study at Lund, a top-ranked Swedish University. Non-EU students from across the world are invited to apply for a partial scholarship at ONCAMPUS Lund. Now is your chance to show off your engineering skills and compete for a 50% scholarship at ONCAMPUS Lund!
About
ONCAMPUS Lund is a partnership with Lund University, Sweden, and ONCAMPUS, part of Cambridge Education Group. Lund University is ranked 60th in the world and Sweden's top-ranked university. ONCAMPUS Lund will be the first on-campus preparation course in Sweden and will enable international students to improve their English while learning the study skills and research methods needed for Master's degree studies.
Prizes and Scholarships
Three (3) pre-Master's partial (50%) scholarships at ONCAMPUS Lund will be given out to three (3) different winners.
No prize alternatives or cash equivalents are offered
Prizes are non-transferable
The winner is solely responsible for all applicable taxes related to the acceptance of the prize
Eligibility
Open to non-EU citizen students from across the world.
To be fully eligible for the prize, the winner needs to have applied directly to ONCAMPUS Lund here.
The winner needs to have a Bachelor's degree
The winner must be a citizen of a non-European country
Winners must abide by the application requirements of the host organization
All users must provide submissions that the user has created him/herself
All users must provide personal information that is truthful and accurate
Sqore reserves the right to exclude users at its sole discretion
How to Enter

Join the competition by doing the following:
Take "The ONCAMPUS Lund Challenge" and "The Engineering Challenge"
Write a short motivational statement on why you should be the winner
Fill out your details in the "Application Form"